YOYO at Servparc 2019.
YOYO shows the innovative workplace booking and ergonomics system in Frankfurt am Main at Servparc, the hotspot for Facility Management, Industrial Services and IT Solutions.
With a trendy new exhibition format servparc debuts as networking hotspot for facility management, industrial services and IT. The place to be for 'YOYO smart ergonomics', Kesseboehmer's leading workplace booking and ergonomics solution. Visitors were shown how office workers easily control their workplace components by means of a single app on both mobile or desktop devices. As a personal assistant to its user the apps engage personal features such as body measures to apply optimized ergonomics to his desk, chair, and ergonomic lighting.
Amongst top-notch facility management developers YOYO once again proved to be the leading platform to turn state-of-the-art software into real-time IoT performance. Down that road often cost-driven facility management concepts are supplemented with a significant enhancement of workplace quality in terms of employee health and satisfaction.
"A mayor topic throughout our trade show talks has been the open software architecture of the YOYO system," Christian Straub lined out. According to the Kesseboehmer sales executive YOYO's API-based integrability is about to become the game changing argument allowing the vast majority of FM vendors to offer smart ergonomics along with their own solution portfolio.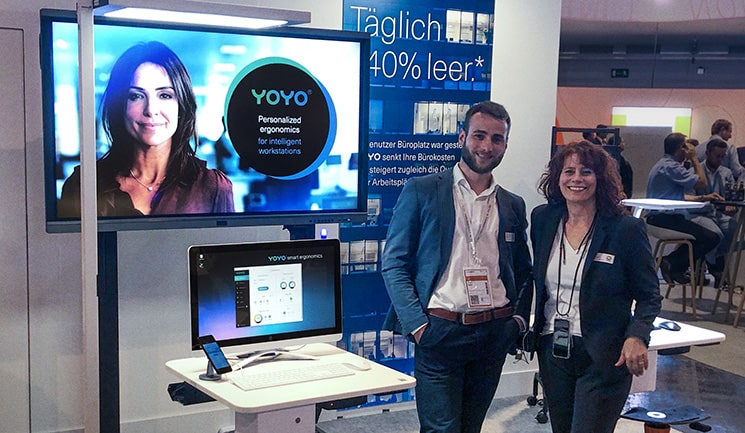 Christian Straub, Head of Project Development YOYO and Ilona Sautter, Marketing Manager presenting cutting edge IoT technology for modern office environments: YOYO smart ergonomics combines cost cutting workplace utilization with 360° ergonomy based on customized employee's personal data.