YOYO at Interzum 2019.
YOYO presents the smart office from May 21 to 24 in Cologne at the world's leading trade fair for furniture production and interior design.
The work place of the future is intelligent, efficient, and ensures employees stay healthy. At this year's Interzum in Cologne, the furniture industry's world trade show, Kesseböhmer proved once more that its YOYO smart ergonomics puts this future within reach.
If businesses want to retain their most valuable asset over a long period, they must tailor the work place to human factors. Technology leader Kesseböhmer, based in Weilheim, Swabia, has been faithful to this principle for decades. Kesseböhmer Ergonomics has now developed an innovative, pioneering technology. YOYO smart ergonomics not only fulfills the highest ergonomics standards, but also meets the rising demand for flexibility and cost-effectiveness in today's world of work.
Interzum attendees were able to experience its stunning simplicity live. Using the YOYO app, employees can reserve a work space that provides the best possible support for their current tasks. Via the intuitive user interface, they can then specify the desk, chair and lighting, and quickly find their ideal, ergonomic working position. A personal ergo-score motivates them to regularly change their posture, thereby keeping themselves active in body and mind.
If they move to a different workstation the next day, they simply take their ergonomic data with them: The new workstation recognizes them by means of their app, and provides their preferred working environment once more.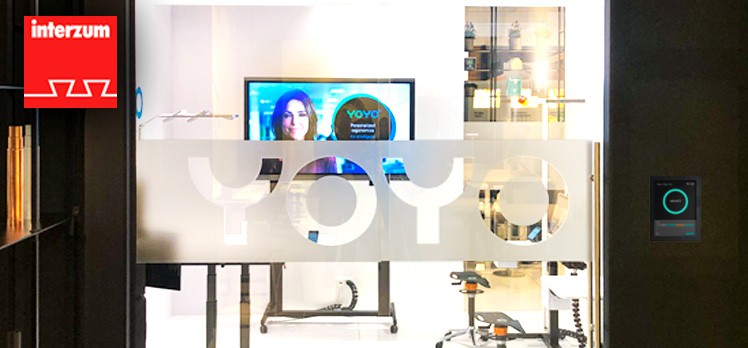 Lower costs. Higher quality.
The trade show attendees also paid much attention to the significant cost benefits that YOYO can deliver: More efficient utilization of workstations reduces the space required on company premises. Today, an average of 40% of office workstations are vacant as employees are either traveling, in meetings, sick, or on vacation. Furthermore, flexible work schedules and part-time jobs are becoming ever more common. With YOYO, enterprises can increase the utilization rate and reduce their workstations by up to 20%. In dense urban areas, each workstation can cost €10,000 per year, savings potential that's lying idle in many companies. A return-on-investment calculator enabled interested visitors to compute this live with their own parameter data – usually with astonishing results.
"The euphoric feedback we received from some of our visitors confirms us in our commitment to the smart office," reported Christian Straub, Head of Project Development YOYO. "Its unique combination of lower costs and improved workspace quality makes YOYO extremely attractive to facility managers and project planners," he added.