5 advantages for companies with an existing CAFM system
Expand Workplace Management
YOYO complements your FM system with the acquisition, control, and evaluation of components such as desks, chairs, or lighting.
Create acceptance for IWMS in the company
YOYO tailors desk sharing workplaces to the ergonomic needs of each individual employee – an important topic for recruitment and the works council.
Promote employee health
YOYO promotes ergonomic working based on individual user data and integrated ergotracking, increasing productivity.
Analyze office components
YOYO enables the analysis of workplaces. Ergonomics data as well as chair and lamp sensors improve capacity forecasts and service quality.
Integrate seamlessly
YOYO is directly connected to your CAFM software thanks to the REST interface. This guarantees easy implementation and fast implementation of your projects.
YOYO is the missing link for workstation control.
Integrate IoT office components into your FM booking system.
The booking requests of the YOYO app can be transferred to your booking system via a local HUB server with protected access.
During the booking, the desk, chair, and lighting can be adjusted and controlled with the app according to ergonomic aspects.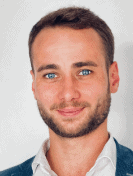 Your contact person:
Christian Straub
Head of Sales
YOYO Smart Ergonomics