YOYO smart ergonomics given a 'special mention' as part of the Architecture and Office Innovation Award.
For the tenth year, the ORGATEC trade show was once again host to the Architecture+ Office Innovation Award presented by German architecture journals AIT and xia Intelligente Architektur. The Innovation Award is intended for manufacturers of innovative products to be applied in office buildings – such as office furniture and equipment, as well as architects, interior designers and designers who have developed products in these areas.
Important assessment criteria for the judging panel, made up of five renowned architects and designers, were functionality and quality design, intelligent technical solutions, and variety of application.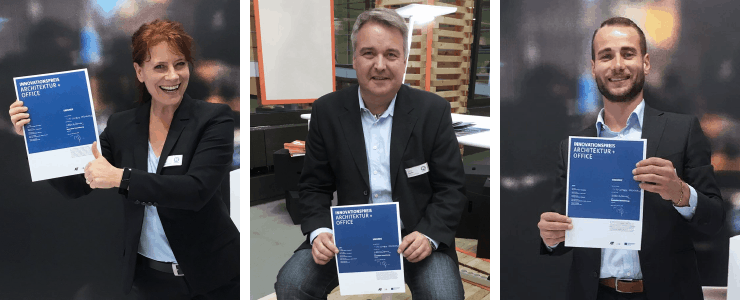 The YOYO team with the 'special mention' certificate from the ORGATEC award ceremony (left to right: Ilona Sautter, Marketing; Oliver Spahn, Director of Kesseböhmer Ergonomics; Christian Straub, YOYO Project Development)