YOYO wins German Design Award
YOYO wins the prestigious prize for communication design at the grand German Design Award Gala in Frankfurt am Main.
The winners of the German Design Award 2020 were honoured at the awards ceremony on 7 February 2020 at Messe Frankfurt am Main. We were delighted to be there and to receive the award for YOYO Smart Ergonomics, our app-controlled system for booking and ergonomics of office workstations. (In the picture above the team around Managing Director Oliver Spahn (left) at the gala evening). YOYO was judged by the top-class jury in the category "Excellent Communications Design" as "groundbreaking in the international design landscape".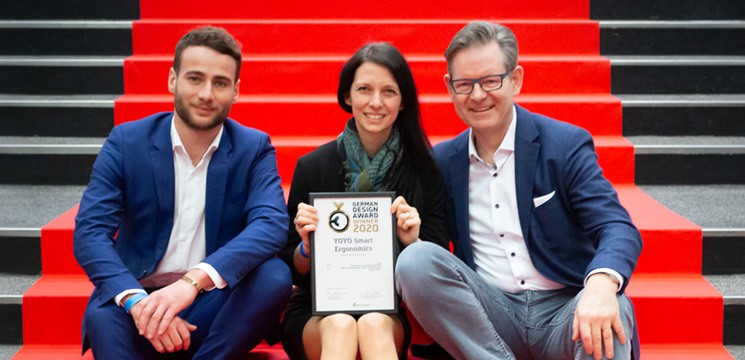 Radiant faces in the team (from left to right): Christian Straub, Head of Sales YOYO, Sibylle Pöhler, Head of Product Management YOYO and Christoph Hegger, Managing Director of DART, the agency entrusted with the app implementation, with the certificate for the GDA2020